SPORTS AND FITNESS FOR CHILDREN
---
The importance of Paediatric Sports Science
" Play is the highest form of research "

– Albert Einstein
The importance of playtime for children can never be emphasized enough, the far-reaching benefits of sports and physical exercise have been well documented by sports and exercise science specialists. The exact number of children who play, exercise or participate in sport is not known. Although a survey done in the US for kids between the age groups 6 to 17 years suggests anywhere between 54 – 59% play, which roughly adds up to about 21 million. Now, one can safely assume that the numbers will be much lesser here in India even though the statistics and data on this subject is unclear.
For most children, sports participation or physical exercise is one of the many childhood experiences, and some of them end up pursuing it seriously. Swimmer Michael Phelps, for example, was only 15 years old when he competed in the 2000 Sydney Olympics, and 15-year-old gymnast Rebecca Tunney competed for Great Britain in the 2012 London games. Closer home, cricketing legend Sachin Tendulkar was all of 16 years when he represented India against a formidable Pakistan team.
Boris Becker was just 17 when he won his first Wimbledon championship entering as a wild card. And one of the most talked-about athletes in 2014 was 13 year old female little league baseball player, Mo'ne Davis. She pitched a shutout game in the Little League World Series that year and was credited for drawing five million viewers and a 3.1 rating for ESPN. Her pitching skills and life story inspired a Disney movie, Throw Like Mo.
However, there is a dark side of early sport specialization as well. For the lack of availability of relevant data in our country, I'm borrowing statistics here. In the US up to 4 million school-age children are injured while playing sports every year, and the reason can be partly attributed to stressing a body that has immature balance and coordination beyond its capacity. Coaches and parents are often oblivious to the damage overuse can cause.
When the training becomes more intense the risk of injury and permanent damage increases and a young athletes career can end before it has even really begun. To make matters worse between 2008-2013 a survey found 2.6 million fewer children participating in sports, which is an average dip of about 20% as compared to the earlier decade, which is huge. And this is not good news for sports organizations, nor is it good news for the nation's healthcare system that must solve the medical problems incurred by an increasingly sedentary society.
Now one must remember these are surveys taken from the US, which is far more progressive when it comes to children playing a sport, primarily because they have a robust middle school, high school and collegiate sports ecosystem in place. It doesn't take much to understand the situation in India where a report suggests that childhood obesity will touch 17 million by 2025.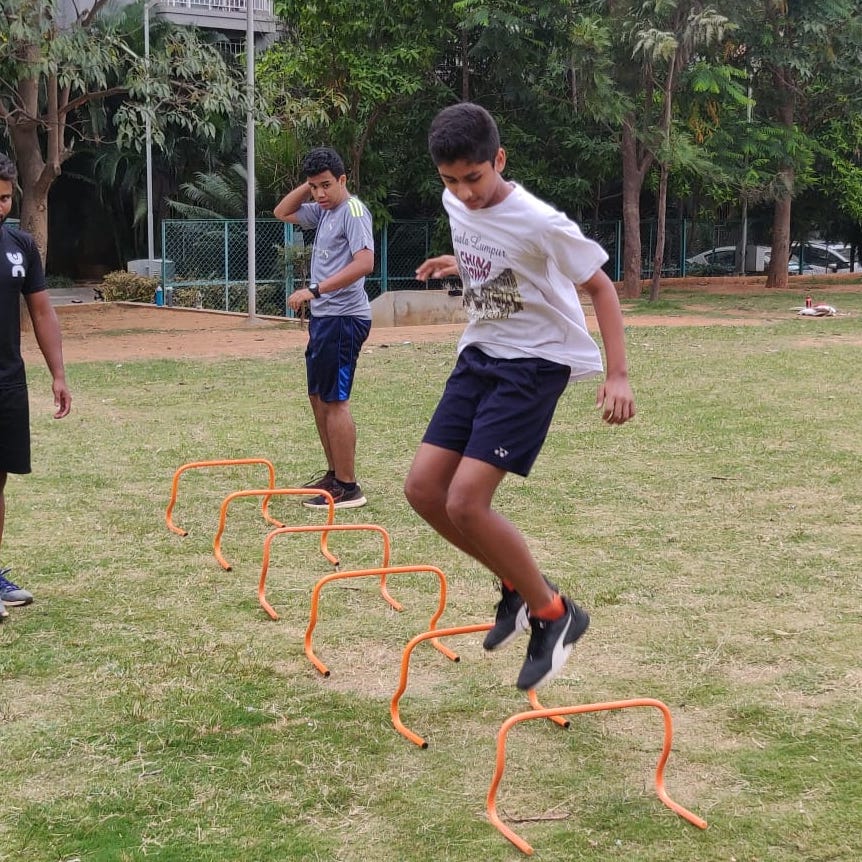 ---
In recent times there has been a surge in Paediatric Sports Science research. In 2007, the International Olympic Committee's Medical Commission collaborated with the International Federation of Sports Medicine to establish safe guidelines for training youth and to examine the current research on child-specific physiological characteristics, their responsiveness to training, and the possible health hazards involved with intensive training. Paediatric Sports Science is proving useful for broad reasons across the world, parents and coaches are really trying to understand this with some seriousness.
First, it provides us with insights into the interaction between growth, maturation, and development of motor skills, which potentially allows us to more accurately identify and develop elite talent.
Second, it provides information about the optimum methods for training children on varying ability levels according to their phase of growth and maturation so that injury and burnout are avoided.
Third, it provides possible strategies for how sports and physical fitness for kids can be used to combat childhood obesity, which directly helps in reducing future national healthcare costs.
And fourth, it brings to light methods for improving the retention rate of children entering into a sports ecosystem. This is of paramount importance because retaining children in a sport or exercise program will help ensure optimal health during adulthood in addition to providing an adequate pool of participants with the potential to compete in the international sporting arena.
It would be fair to surmise that a better understanding of Paediatric Sports Science by a coach and a parent is potentially at the heart of not only the nation's international sporting success, but can also positively impact the future health of the nation.
( All inputs in this article are based on Sports science research )